Aaron Blair is a big time arm.
by
KevinRBLF
| Posted on Monday, March 11th, 2013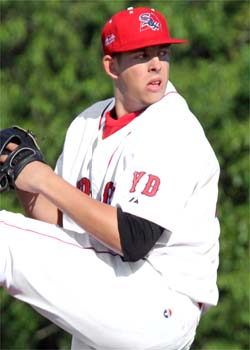 Like the title says, Aaron Blair is a big time starting pitcher for Marshall University. Unfortunately, he hasn't received his fair share of credit up to this point. Aaron's father Craig Blair is also one of the nicest human beings I've ever had the pleasure of speaking too. He took the time out of his night to grant me a lengthy conversation about Aaron's current state and how his son has arrived to this point.
Aaron Blair is a 6-5 220 pound starting pitcher who currently attends Marshall University. He throws a 92-94 MPH fastball and in 1 of his most recent starts (In 58 Degrees by the way) he touched 94 24 times, so he certainly has the ability to hold his velocity. I personally have said since the beginning of this process that he was an underrated arm, but I expect that will be changing soon. He also throws a knucklecurve. He throws it at  77-79 MPH and he throws a 84-86 MPH circle changeup with some arm side run.
I had the pleasure of finding out how he came to decide on using the knucklecurve and why him and his family decided it was best for him to attend Marshall instead of signing when drafted previously by the Astros. Coming out of HS, he was in a Nevada prep class that included the likes of Kris Bryant, a potential 1st round draft choice in June, Bryce Harper, a superstar prospect and current star for the Washington Nationals, as well as reigning Rookie of the Year.  Michael Wagner Drew Robinson Donn Roach Nick Kingham and Aaron Kurcz are also some of the names who were in that Nevada class back in 2010. So it's fair to say that this overlooked thing has always been something of a theme in Aaron's life.
I asked Aaron's father how exactly his son came to throw such an odd breaking ball. He explained that back when Aaron was still very young he was concerned, as most parents are, about allowing their child to throw these breaking pitches, as our contributor Mack Ade pointed out that it's usually a good way for kids to blow their elbows out without proper mechanics. So as luck would have it, an older gentlemen who had seen Aaron pitch and lived in the area said "Here son let me show you how to throw this one" and Aaron's father noticed the grip on such a pitch and the particular way you throw this pitch didn't have the same kind of stress on the young man's arm normal breaking balls would have. As he put it, "It's almost like your throwing a football the way your wrist moves" so it didn't have the same strain on the elbow most curveballs present with that snapping motion.
As for the not signing part, he said that him and his family had a very long discussion.  They realized that as a person and a ballplayer, Aaron deserved the chance to live the college lifestyle and further develop himself in that atmosphere more than as a young High School Draftee dealing with the Minor League lifestyle. I have to say this is where that part of admiration and new found respect I have for this man comes from is the fact that most parents would've said "Here son take this money and go get em", but he realized that his son needed that extra development in a diffrent enviroment. I must say it's really paying off as Aaron has a great chance to improve on his Draft status from 2010 in the 21st round. When asked why he felt his son is doing so well now he said "Aaron is as even balanced as they come and coming out of such a strong High School class he's always felt a bit like the underdog", which we all know how that creates that fighting spirit that really leads to major league success.
As to why Marshall all that way away from home in Las Vegas, he pointed to the fact that Aaron would have starting time right away and that was crucial to his son's development. Of course, he could've decided to go to some big name school and fight it out. but I truely like this decision because it allowed him to just focus on pitching and not have to deal with the pressures of a big time program.
I have nothing but the best to say about Aaron and his father and I truely wish both of them the best in the future. Aaron has a good chance to go in the first 2 rounds in the upcoming draft in my opinion.
He's having a solid season so far at Marshall with a 2-1 record. 22.2 IP with 21K 6BB and a 3.57ERA. He also boasts a strong .181 AVG against.
If you ask me, there's not a better situation for a kid to have than the support system Aaron has. Come June, I fully expect him to get drafted early sign quickly and have a nice lengthy career. He deserves it as much as anyone.
I'd also like to say thank you to Craig Blair for providing me an opportunity to speak to him and I personally wish him and his son nothing but future success and happiness.